Topics covered at NRF PROTECT 2018
Theresa Payton is one of America's most respected authorities on Internet security, data breaches and fraud mitigation. At NRF PROTECT 2018 learn how to prepare for success in the ongoing battle against cybercrime.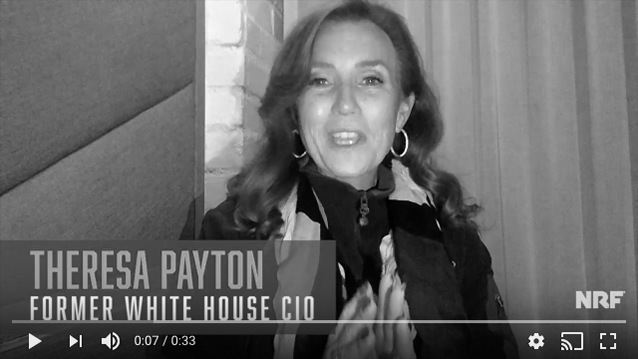 Disaster Recovery and Crisis Management
Do you feel confident in your business to handle situations that are out of the ordinary, yet increasingly more common? Has your strategy been updated to reflect the growth, change, or realignment of your business? In order for your organization's emergency procedures to be effective your plan must be regularly reviewed to reflect the current state of the business.
Cybercrime Prevention
Understanding the cyber and data landscapes is the first step in helping to prevent potential threats. Are your security policies clearly defined? While loss prevention and information technology may be at the forefront of prevention, detection and investigation, it takes an entire organization to be educated and aware to fight attacks. Building a first-class security program is critical and educating the team is ultimately the best line of defense against cyber criminals.
The Causation and Prevention of Retail Shrink
Shrinkage costs retailers billions of dollars in profits each year. How can you get smarter to reduce this problem and the financial impact? Accurately reporting, analyzing and predicting shrink is important to help prevent this issue that is caused by fraud, non-compliance, poor processes and organized crime. Determine how your company measures up to the competition and alleviate this industry-wide problem.
The Impact of Emerging Technology on the Asset Protection World
The collaboration between retailers and technology providers are allowing new and emerging technologies such as AI, self-driving cars, drones and robotics, to not only protect assets and employees, but also improve the overall shopping experience. Learn the impact of new technology on efficiency and fraud prevention.
The Digital Crime Scene: Card-Not-Present Fraud
While the shift to more EMV chip technology cards are aiding in curbing physical fraudulent transactions, the growth of online retail purchases is making card-not-present fraud more prevalent. Evaluate the security of card-not-present channels to establish a fraud detection system to analyze suspicious behavior; ensuring your company isn't vulnerable to fraud.
Rise of the Organized Retail Crime: Retail Fighting Back!
The statistics behind organized retail crime continues to be shocking. Discussion amongst your retail peers on best practices, challenges, and emerging trends will aid in your company's strategy in fighting this issue.
Leadership and Workforce Culture
Culture is often a mysterious word that characterizes the work environment. A strong culture starts with strong leadership. What leadership values are you modeling? Are they shaping the culture into one that is healthy or toxic? The modern workplace is becoming increasingly complex, and leaders need to continue to build their skills to motivate their teams, improve productivity, and to hire and retain the best people.