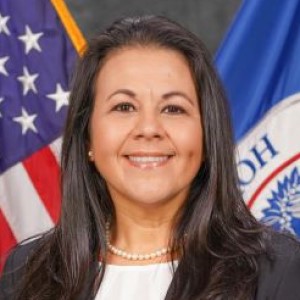 Acting Deputy Assistant Director
Homeland Security Investigations
Maria Michel-Manzo is the Division Chief for the Countering Transnational Organized Crime, Financial and Fraud Division with the U.S. Department of Homeland Security (DHS), Homeland Security Investigations (HSI), Washington, DC. As the Division Chief, Ms. Michel-Manzo is responsible for managing directing and coordinating the Financial Crimes Unit, Bulk Cash Smuggling Center, Document Benefit and Labor Exploitation Unit, Trade Transparency Unit, and the Asset Forfeiture Unit.

Previously, Ms. Michel-Manzo served as the Assistant Special Agent in Charge for HSI McAllen, Texas, where she was responsible for all operational and administrative activities for HSI for the Hidalgo and Starr Counties where she served under the SAC San Antonio which is the largest HSI SAC district that covers 2 Federal Judicial Districts, 58 counties and over 500 miles of International Border between Mexico and the United States. Prior to her ASAC appointment, Ms. Michel-Manzo held the key position of Unit Chief at HSI Headquarters in Washington, DC and managed high-level operations in North and Central America.

Ms. Michel-Manzo has 25 years of law enforcement experience that began in 1997 when she joined the U.S. Customs Service as a Special Agent in Baltimore, Maryland where she later transferred to the Brownsville and Harlingen, Texas offices. After working as a Special Agent for the Office of Professional Responsibility, she was promoted to Group Supervisor at ASAC Harlingen from 2011-2014 until accepting a Section Chief position at HSI Headquarters where she was ultimately promoted to Unit Chief in 2016.

Born in Harlingen, Texas, Ms. Michel-Manzo attended Sam Houston State University where she graduated with a Bachelor of Arts in Criminal Justice.