Tools & Tips
Congratulations on becoming an NRF PROTECT speaker! Below are resources and FAQs to help you prepare for the event.
Watch, Enjoy & Get Inspired
Spread the Word
Tweet using #NRFPROTECT
Follow & tag #ExperienceNRF on Twitter
Follow & tag #This_is_Retail on Instagram
Download and use the Speaker Graphic to promote your speaking engagement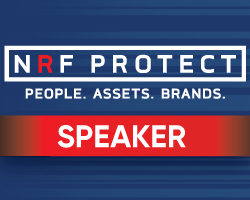 FAQs
Do I need to reserve my own hotel room?
Yes. Visit the Hotel & Travel page to book your hotel at a discounted NRF rate, subject to availability.
Do I need to register for NRF PROTECT?
No, NRF provides speakers with a complimentary Full Conference Registration. You will be registered as a speaker and will receive a confirmation email closer to the date of the event.
Where is NRF PROTECT located?
Gaylord National Resort & Convention Center, 201 Waterfront St, Oxon Hill, MD, USA, 20745
What A/V equipment is available for my presentation?
All rooms will be equipped with a podium mic or wireless lav and one PC laptop. If you have a Mac-based presentation, you'll need to bring your own Mac and appropriate cable or dongle.
Need to schedule an on-stage rehearsal?
If an additional, on-stage rehearsal is preferred, please schedule a 15-minute time slot with your session lead via email. Please note that on-stage rehearsals are not mandatory, however you must review your presentation in the Speaker Ready Room at some point prior to your session.
How do I submit my presentation and/or video files?
Draft presentations must be sent to your Session Lead by May 19, 2017.
Final presentations must be sent to your Session Lead by June 14, 2017.
Interested in having a colleague attend your session?
For colleagues not registered for the conference and looking to attend only your session, stop by the Speaker Ready Room for a Speaker Guest Pass. Your colleague can use this pass to access your session only. Only speakers themselves will be allowed to pick up Speaker Guest Passes. Limited to three guests per speaker session.
Visit the Speaker Ready Room at the convention to review your presentation, make any necessary updates and ensure there are no formatting or compatibility issues. Technicians are available to assist. We'll share the Speaker Ready Room location and hours of operations around June 1.
Additional Questions?